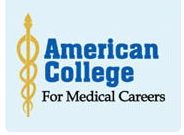 Start your career-focused
education today!
Get free college information now!
It only takes a minute.
American College for Medical Careers

Want to make a career out of helping others?
At the American College for Medical Careers, we train students for in-demand careers in the healthcare field through quality distance and onsite education. Whether you're thinking about starting a career in the healthcare field, or are a healthcare professional looking to change directions, our allied health school in Florida will help you achieve your goals.
Available Programs
Students at the allied health school in Florida have the option of training for careers in a wide range of health care specialties, such as:
Dental Assisting with Expanded Functions
Medical Assisting
Diagnostic Medical Sonography
Health Information Technology
Medical Coding and Billing Specialist
Respiratory Therapy
Cardiovascular Sonography
As some of the fastest-growing healthcare career opportunities available today, these programs represent our mission to both meet workforce demands for allied health professionals and create high demand opportunities for every student who attends our schools.
Why ACMC?
At the American College for Medical Careers, you'll receive personalized attention and support from the moment you walk through our doors to inquire about our allied health programs, through the moment when you're ready to accept your first position in your brand new career. From selecting the appropriate program, to one-on-one support and job search assistance, our staff and educators are always right by your side to ensure you achieve the highest levels of professional excellence.
Other features of ACMC include:
Small class sizes to ensure plenty of individualized instruction
Professional instructors with real-world experience in your specific area of study
Flexible day and evening schedules to best accommodate your needs
Externships and clinical experience for plenty of hands-on practice
The American College for Medical Careers provides allied health career training to students at its campus location in Orlando, Florida, along with online training to students in nine other states.
Financial aid available to those who qualify
Disclosures: http://schooliya.com/peg/Orlando/index.html
Accreditation: ACICS – Accrediting Council for Independent Colleges and Schools
Privacy Policy: http://www.acmc.edu/privacy-policy